Tower's Original Complete
Pauling Therapy Heart Formula
HEART TECH®





Tower introduced the original Pauling therapy formula HeartTech® (formerly Heart Technology™) in 1996, and the Pauling therapy standard was set. Tower prides itself on having been faithful to Linus Pauling's recommendations for reversing heart disease.  As a result it has been rewarded with an undisputed record of success with its products.  In that time very ill customers have consistently reported noticeable symptom relief in just days on two jars of HeartTech® monthly.

"Knowing that lysyl residues are what cause Lp(a) to get stuck to the wall of the artery and form atherosclerotic plaques, any physical chemist would say at once that the thing to do is prevent that by putting the amino acid lysine in the blood to a greater extent than it is normally."  - Linus Pauling, Journal of Optimum Nutrition, Aug 1994

What are the Benefits of HeartTech®?

Easy to Use

Simply select from 1 jar (preventive - no heart disease history) to 2-3 jars (therapeutic - history of heart disease) of HeartTech® per month.

Convenient

Eliminates pills, bottles and mistakes.  The product is a bioavailable drink mix that is easily mixed with water or juice and supplies the equivalent of more than 16 ordinary vitamin pills and amino acid capsules as a pleasant-tasting drink.

Economical

Compare as separate pills!  Convenient home delivery at wholesale.

Great Taste

Tower scientists pride themselves on the successful formulation of this highly palatable vitamin drink mix. 

Pure

No fillers, glues, binders, additives or particulate.  Manufactured to the highest standards with pharmaceutical grade, bioidentical ingredients, tested for assay purity, and blended and packaged according to the highest GMP quality control guidelines.

Completely Nontoxic

All Tower Orthomolecular formulas are completely nontoxic and designed to remain safe at high doses.  There is no known lethal dosage level for either vitamin C or lysine. 

No Trace Minerals

The Tower HeartTech® formula contains no added trace minerals which may be toxic over time at high doses.  The HeartTech® formulas do contain magnesium, which is a bulk, not a trace, mineral.

Still Have Questions About This Product?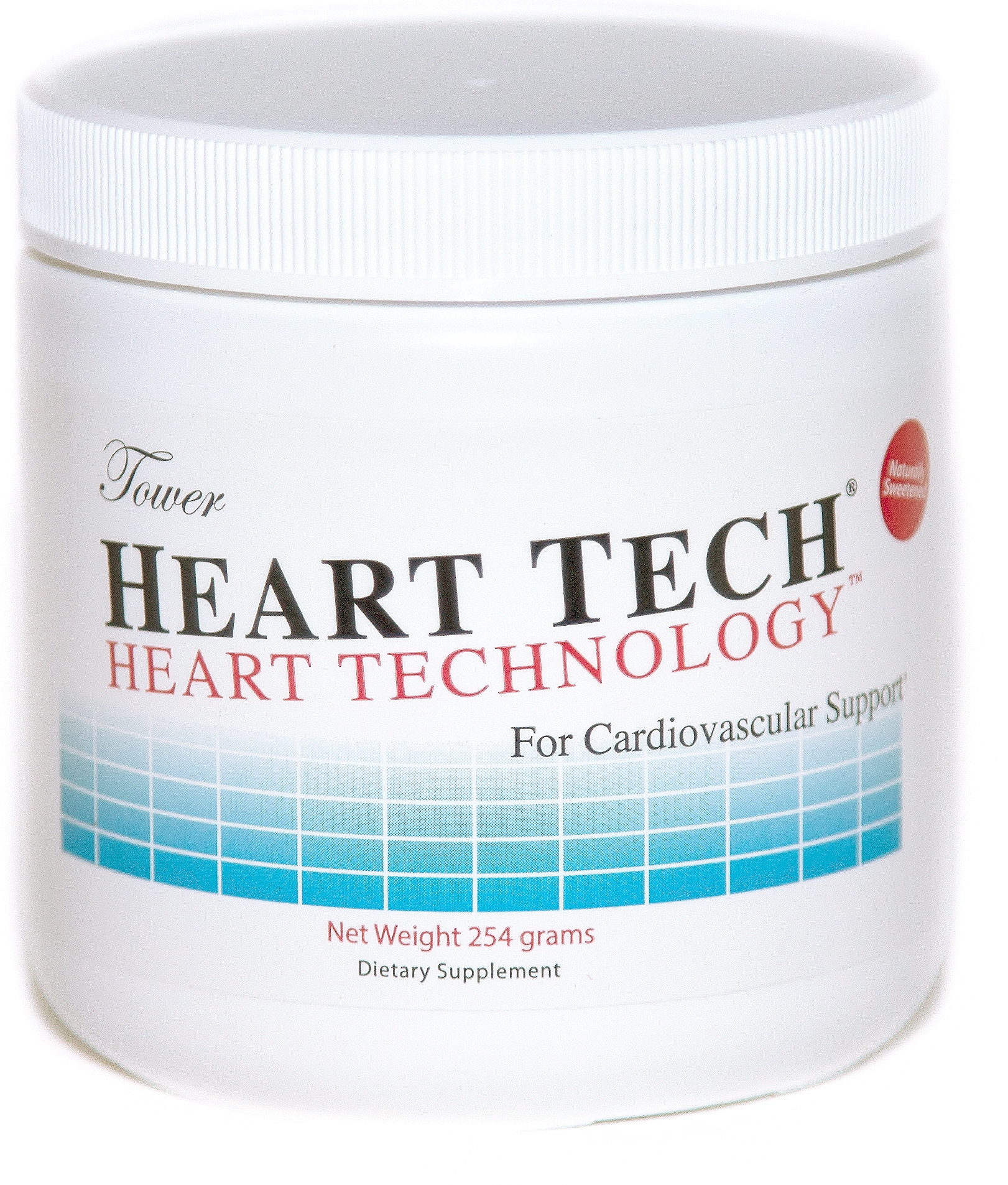 Disclaimer:  The Food and Drug Administration (FDA) has not evaluated any statements on this Website.  Tower Laboratories Corporation does not make health claims for its products.  Tower Laboratories products are not intended to diagnose, treat or cure any disease.  Tower is not responsible for independent third parties who may otherwise represent the efficacy of its products.  These individuals are not Tower's agents and do not have permission to do so.  Unsatisfactory products sold in the USA may be returned for a full refund within 60 days of the original ship date.

30 servings per jar

*Values are per serving.

Serving size is 2 scoops per day in divided doses.

(Scoop is included in jar.)

Why Choose HeartTech®?

Over the past two plus decades thousands of heart patients have witnessed what happens to them when they follow Linus Pauling's "all too simple" advice.

In the beginning no one listened to Pauling.  For some reason those who sold products failed to include or recommend the proper dosage amounts for effective relief with the therapy, perhaps because it was difficult to get people to take that many pills.

Tower Labs formulated its tasty drink mixes to overcome consumers' reluctance to swallow so many pills, without realizing that the drinks would actually work better (make the ingredients more bioavailable) than equivalent dosages in pills.

We are proud that the long-term success of Tower's Pauling therapy formulas has yielded several "copy cat" products.  Imitation is flattery.  However, it is important to remember that "cheaper" versions of products are "cheaper" for good reason. Why take chances with some other company's inferior product that might work or that adds to Pauling's specific recommendations?  Tower's original Pauling therapy formula HeartTech® has a decades long proven track record and includes the additional specific Pauling cardiovascular recommendations such as the antioxidant vitamins E and A, folic acid, and vitamin B6, all in a great-tasting, well-absorbed drink mix without fillers, preservatives, binders or additives.

Pauling's treatment seems too simple to many people, especially uninitiated medical doctors, but judging the Pauling therapy without first trying it could prove a grave and life-threatening mistake in judgment for heart patients and non-heart patients alike.

What is an Lp(a) Binding Inhibitor?

Lp(a) (short for lipoprotein(a)) is a form of LDL (bad) cholesterol. There are now more than 11,000 scientific papers and studies which have identified the "sticky" Lp(a) cholesterol as a primary risk factor in occlusive cardiovascular disease.

The Pauling/Rath Unified Theory of Heart Disease paper, which was curiously ignored by U.S. mainstream medicine, explains that Lp(a)
is a pinch-hitter for low collagen when vitamin C intake is too low to make adequate collagen to meet the body's vast collagen demands including for the coronary arteries.  According to Linus Pauling, Lp(a) molecules are attracted and adhere to arterial lesions because of lysine and proline binding sites.  Pauling explains:
HeartTech® Dosing Recommendations

Linus Pauling's specific cardiovascular recommendations
are vitamin C and lysine from 3,000 mg (1 jar) for heart disease prevention/long-term maintenance to 6,000 mg or more (2 or more jars) for initially addressing established cardiovascular disease.  Both of these components of the Pauling therapy are essential nutrients.  Both vitamin C and lysine are required for life and good health, and there are no known toxic or lethal dosage levels.  Serving size is flavored to be mixed with 8 ounces of water.  It is not advisable to take any Pauling Therapy formula with fiber.  Also, HeartTech should never be taken with sugary soft drinks, simple carbohydrate foods (white potatoes, white bread, white rice, pasta, etc.), or even fruit drinks if you are diabetic or insulin resistant, as  vitamin C is crowded out when serum (blood) glucose levels are elevated.  See
The Pauling Therapy - Does It Work for Everyone?
Made in the U.S.A.   •   Copyright © 2008   •   All Rights Reserved.

Tower Laboratories Corporation   •   3395 S. Jones Blvd., #349   •   North Las Vegas, NV  89031   •(702) 85

Retail:  $61.50

Autoship:  $44.55