Tower's New Basic Therapeutic and
Preventive Heart Formula
CARDIOADE®



Added to Tower's Pauling therapy product line in 2008
,
CardioAde®
is our newest and most economical Pauling therapy drink mix.  At 5,000 mg of vitamin C and lysine daily one jar of CardioAde® provides only 1,000 mg less than the Pauling therapy equivalent (vitamin C and lysine) of 2 jars of either
Heart Tech®
or
Ascorsine-9®
. CardioAde® was added as a Tower formula at the request of customers who were already taking a multivitamin supplement and simply wanted to add the Pauling-recommended therapeutic amounts of vitamin C and lysine.
Approved Pauling-therapy®

This new vitamin C and lysine formula is based on the specific recommendations made by the World's only 2-time unshared Nobel Prize winner Linus Pauling. 

Easy to Use

Powdered drink mix easily added to water for daily vitamin C and lysine intake for optimal cardiovascular health.

Pure

High quality ingredients.  No fillers, glues, binders, additives, preservatives or particulate.

Economical

One jar of CardioAde® provides 5,000 mg of vitamin C and lysine daily per two scoops in divided doses.   Compare with individual ingredients separately as pills!


Who Should Supplement With CardioAde®?

CardioAde® is a pleasant-tasting, well-absorbed drink mix without fillers, binders or preservatives.  It is less expensive per serving because there are no additional orthomolecular nutrients and we only have to purchase, fill and ship one jar instead of two.

This product is designed for those who are already supplementing with the additional nutrients recommended by Pauling, e.g., vitamin E, magnesium, CoQ10, etc., and who prefer to take these additional nutrients separately.

The vitamin C and lysine content in CardioAde will also provide powerful immune protection from cold and flu viruses in both children and adults.   

One jar of CardioAde® provides one adult with 5,000 mg. of vitamin C daily per two scoops in divided doses (which is 2,000 mg. more vitamin C than the Pauling recommended preventive dosage of 3,000 mg daily), or two adults with 2,500 mg of vitamin C daily per one scoop each.




Disclaimer:  The Food and Drug Administration (FDA) has not evaluated any statements on this Website.  Tower Laboratories Corporation does not make health claims for its products.  Tower Laboratories products are not intended to diagnose, treat or cure any disease.  Tower is not responsible for independent third parties who may otherwise represent the efficacy of its products.  These individuals are not Tower's agents and do not have permission to do so.  Unsatisfactory products sold in the USA may be returned for a full refund within 60 days of the original ship date.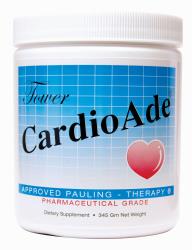 What are the Benefits of CardioAde®?

CardioAde is Tower's basic, life-long maintenance Pauling therapy formula
but does not contain the amino acid proline as found in Tower's HeartTech® and Ascorsine-9®.  The same preventive and therapeutic Linus Pauling protocol benefits apply, though for advanced cardiovascular support Pauling recommended no less than 6,000 - 9,000 mg of vitamin C and lysine daily depending on the level of cardiovascular problems (these amounts of vitamin C and lysine are provided by
Heart Tech®
or
Ascorsine-9®
, at 2-3 jars monthly for at least 9-12 months except in the case of recent bypass grafting, in which case CardioAde ® without proline would be the recommended choice.
Dosing Recommendations for  CardioAde®

One jar of CardioAde® provides 5,000 mg of vitamin C and 5,000 mg of lysine for one month.
  The serving size is best divided into 1 scoop twice a day taken 30 minutes before the morning meal and 30 minutes before the evening meal with 8 oz. of water. It is not advisable to take any Pauling Therapy formula with fiber. Also, CardioAde should never be taken with sugary soft drinks, simple carbohydrate foods (white potatoes, white bread, white rice, pasta, etc.), or even fruit drinks if you are diabetic or insulin resistant, as  vitamin C is crowded out when serum (blood) glucose levels are elevated.  See
The Pauling Therapy - Does It Work for Everyone
? 
Both components of the Pauling therapy are essential nutrients.  Both vitamin C and lysine are required for life and good health.

Still Have Questions About this Product?


Made in the U.S.A.   •   Copyright © 2008   •   All Rights Reserved.

Tower Laboratories Corporation   •   3395 S. Jones Blvd., #349   •   North Las Vegas, NV  89146

(702) 876-5805