Disclaimer:  The Food and Drug Administration (FDA) has not evaluated any statements on this Website.  Tower Laboratories Corporation does not make health claims for its products.  Tower Laboratories products are not intended to diagnose, treat or cure any disease.  Tower is not responsible for independent third parties who may otherwise represent the efficacy of its products.  These individuals are not Tower's agents and do not have permission to do so.  Unsatisfactory products sold in the USA may be returned for a full refund within 60 days of the original ship date.

Made in the U.S.A.   •   Copyright © 2008   •   All Rights Reserved.

Tower Laboratories Corporation   •   5575 Simmons Street, Suite 1, #253 •   North Las Vegas, NV  89031   •   (702) 876-5805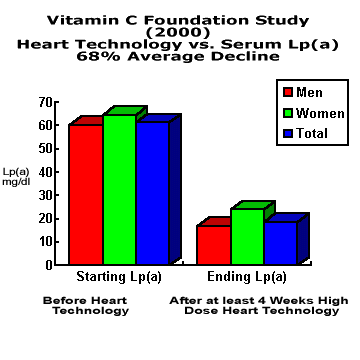 Vitamin C Foundation

PO Box 73172

Houston,  Texas  77273

August 22, 2000

William Decker

Tower Laboratories Corporation

3432 N. Bruce Street, Suite 3

North Las Vegas, NV  89030

Dear Mr. Decker,

Please accept the following preliminary Pilot Study results of the Tower Heart Technology formula's effect on serum Lp(a).  After receiving Lp(a) tests on the following individuals, they were provided 2 months of the Heart Technology product. We followed up their second Lp(a) exam with a questionaire to determine dosage and compliance.

After several initial Lp(a) increases, all subjects that have reported their results have now recorded significant reductions in their Lp(a). One female dropped out with stomach cramps. Four others (two female and two male) have not reported their follow-up results as of this date.

Eight subjects reported both before and after Lp(a) readings. In this group, the reported drop in Lp(a) averages 68%.

This pilot study was begun after individuals who measured their before/after Lp(a) consistently reported substantial Lp(a) reductions after starting the Tower formula. The study is on-going. We can make the before/after lab reports available for inspection.


Yours truly,

M. S. Till

Lp(a) Study Director

Vitamin C Foundation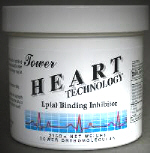 VITAMIN C FOUNDATION PILOT STUDY RESULTS
TOWER'S HEART TECH® FORMULA
LOWERS LP(A) CHOLESTEROL